talech Restaurant POS
talech is an Apple Point of Sale hardware and software company based out of Palo Alto, CA. talech is available exclusively for Elavon merchants and offers solutions for restaurant based businesses. talech's Point of Sale features are everything a restaurant business owner would need to grow their business. Features include robust analytics, employee management, promo management and online ordering!
talech Restaurant Demo Video
Online Ordering for Restaurants
Seamlessly integrated into talech, online ordering can speed up service, reduce order errors and provide a new way to reach customers.
Employee Management
With the clock in feature you can easily manage your employee hours. Track hours worked by each employee using the time sheet report available via the app.
Managing Products
Manage your products by categorizing them, applying add-ons, editing variations and creating discounts. Make batch edits, download your product list and track your inventory and profitability.
Creating & Managing Orders
Manage and create orders, view categorized products and add customized items. Associate orders and split checks by guest position at the table. Apply discounts, adjust tips, send orders to the kitchen, void items and process refunds.
Gift Card Feature
Purchase and activate gift cards right from the register. talech integrates with Fanfare electronic gift cards which is available for Elavon merchants.
Analytics – Understand Your Business
Get detailed reports on sales and transaction trends. See which products and employees are the top performers. Receive a summary at the end of each business day.
Analytics – Understand Your Customers
Capture customer information at the point of sale. Understand how often your customers visit, how much they spend, when their last visit was and preferences.
Analytics – Make Better Decisions
Insights identify patterns in your data and provides actionable recommendations that can significantly help your small business run smoother and better.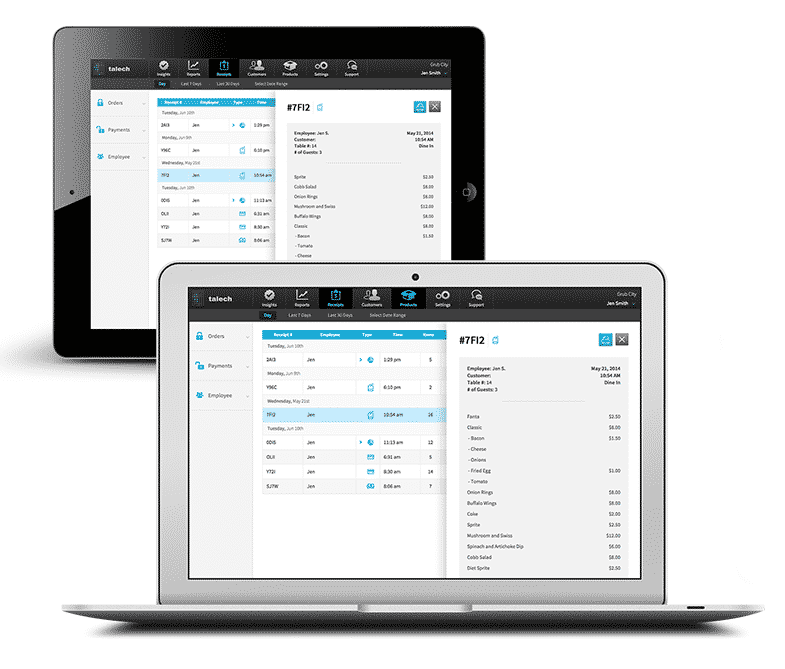 talech Mobile Access
Update once, view everywhere.
talech stores all your data in the cloud so you can update your product information from your computer or iPad and it's available on all your devices instantly. And with bulk upload and bulk edit capability, managing products can be done in little time.
talech Dashboard Overview